Learn why UHSP is the inspired choice for your health sciences education.
Here, we believe that your drive can make a difference. We believe you will be a catalyst for change. Alongside the brightest minds and boldest thinkers, you will chase what is important, what matters and what will make tomorrow better than today.
Here, you transition from imagining a better world to making it a reality.
World-Class Health Sciences Education
With a focus on health sciences education in and outside the classroom, UHSP prepares students to make a real-world impact in a variety of fields.
Collaborative Research and Innovation
With state-of-the-art facilities and a pioneering mindset, UHSP provides endless opportunities to gain hands-on experience from top-tier faculty working to change the future of health.
Forward-Focused Outlook
The health landscape is ever changing, and UHSP continues to keep pace. Our investment in student experience and growth gives you the freedom to follow your own unique professional path, no matter what the future holds.
Supportive Campus Culture
Our small, tight-knit campus allows students to bond over common goals and experiences, building a strong and supportive campus community.
Different by Design
Founded as St. Louis College of Pharmacy in 1864, UHSP is steeped in a history of visionaries and change-makers. The University continues to evolve and remain responsive to the needs of the students of today and the health care landscape of the future.
Nationally Ranked, Internationally Respected
#1
FOR ROI
UHSP ranked number-one for return-on-investment at 15, 20, 30 and 40 years post enrollment.
96%
RECEIVE FINANCIAL AID
From grants to loans to Federal Work-Study programs, 96% of UHSP students receive financial assistance.
Top 50
IN FEDERAL RESEARCH
UHSP ranked among the top 50 U.S. colleges of pharmacy for total federal research awards, per the American Association of Colleges of Pharmacy's Funded Research Grant Institutional Rankings Report
#4
IN NIH GRANTS
UHSP ranked number four among the region's largest NIH award recipients for 2021, per the St. Louis Business Journal
Pursuing extrordinary for over 150 years
Accreditation
Our undergraduate, graduate and professional degrees are accredited by the Higher Learning Commission of the North Central Association of Colleges and Schools.
Your Safety is our Priority
UHSP is dedicated to providing a safe learning, living and working environment for all students, faculty, staff and visitors. The campus is staffed 24 hours per day by public safety officers. Learn more about how UHSP ensures your safety on campus.
Maps and Directions
Get an overview of UHSP's nine-acre campus with our interactive map. Find driving directions, parking information and more.
Media
Our media center offers information designed to help reporters and media outlets get acquainted with the University, our students, faculty and staff, and the many programs and initiatives underway at the institution.
Serving Our Community
In our mission to connect society to healthier lifestyles, UHSP students, alumni, faculty and staff volunteer thousands of hours every year to support communities near and far. Learn more about our variety of unique community service opportunities.
Giving to UHSP
Your support enables UHSP to create world-class educational experiences, provide scholarships, grow research efforts and expand cultural and international opportunities for our students.
Engage with Alumni
Reconnect with your alma mater. It is through your invaluable support that we can ensure the health and longevity of our historic institution.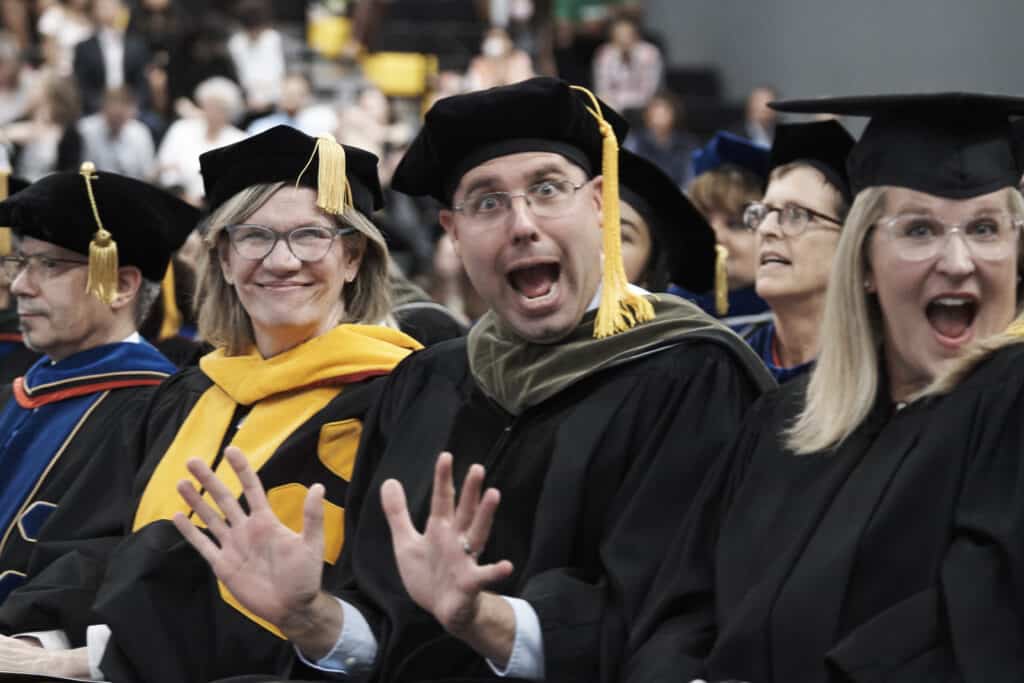 Leadership
University of Health Sciences and Pharmacy in St. Louis is guided by talented leaders who are committed to ensuring the University's success.
WORK WITH US
Find out for yourself why UHSP has been recognized by the Chronicle of Higher Education as a Great College to Work For. Review our current job listings, benefits, policies and more.