Take the Stage with Performing Arts
As a student at University of Health Sciences and Pharmacy in St. Louis, life is not all science classes and laboratory work. The performing arts matter here. And, we're proud to offer numerous opportunities every year for students, faculty and staff to express their creative sides whether on stage, behind the stage or in the audience.
Whether you're an experienced musician, actor, singer or stage hand or have always wanted to try, there is a place for you in the performing arts at UHSP.
Music Ensembles
Rehearse and perform with other music and theater lovers. At UHSP, singers find their place in the Royal Chorale or in the spring musical production. Musicians can choose from the Concert Band, Pit Orchestra or Jazz Club.
Concert Band
If you play woodwind, brass or percussion, the UHSP Concert Band welcomes you! The group meets weekly to explore a wide variety of repertoire ranging from classical to pop. The band performs from the University community at the end of each semester.
Jazz Band
This student organization has weekly jam sessions where members work together to improve improvisation skills. It is a casual and supportive music-making environment where everyone can learn to express themselves. The Jazz Club performs at various events throughout the year. Students, faculty and staff are welcome to join.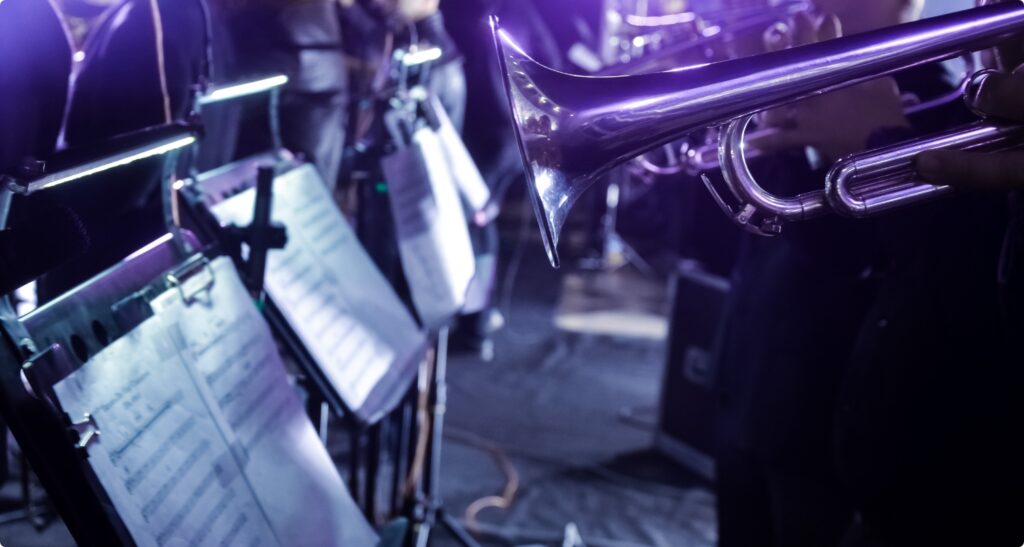 Pit Orchestra
Every spring, instrumental musicians are needed for the Pit Orchestra to support the annual musical theater production. An audition is required as the music can be challenging. Recent musicals include Into the Woods and The Drowsy Chaperone.
Theater Performances
Each fall and spring, students take the stage to showcase their talents in music and theater. Auditions are held twice a year, one in the fall for the play production and another in the spring for the musical production. Students, faculty and staff are all encouraged to participate whether it is on the stage, in the pit or behind the scenes.
Productions typically run for three performances, and admission is free to all students, faculty and staff. Under the direction of Tim Moylan, associate professor of English and director of the theater program, students get the full theater experience from top tier costume and set design to a state-of-the-art performance space in the Academic and Research Building auditorium.